Each year, at the end of October and beginning of November, many of the Mexican influenced communities in the world celebrate "El Dia de los Muertos" – the Day of the Dead. It is, traditionally, a time for remembering those deceased in one's family and connecting to one's heritage and ancestry. To familial based cultures this is especially important because identity is defined by one's place on the land and in the family. Roles are clearly defined and expected. Tying oneself through memory and emotion to a departed relative helps remind a person of their role.
In New Mexico, in Albuquerque in particular, and in the South Valley of Albuquerque specifically, celebrating "El Dia de los Muertos" with the "Muertos y Marigolds Parade" has been an important part in maintaining Hispano/Chicano identity and pride in a country and state that has – in not too distant history – often subjugated Hispanic culture, traditions, and language.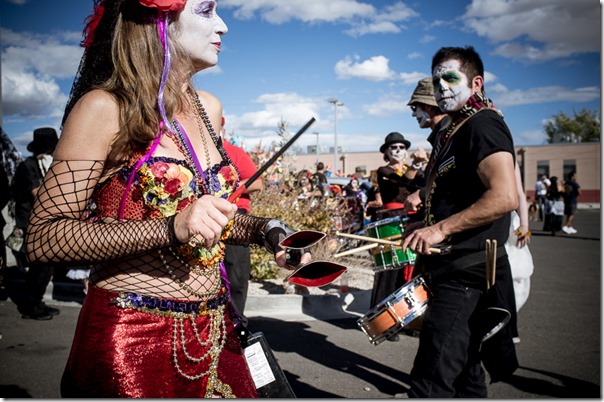 I've visited the parade often. Each year I would descend on Isleta Boulevard with my camera, full of anticipation and nervousness. The Calaveras and costumes were often fantastic, the floats inspired, and the display of South Valley Chicano culture full of pride and good cheer. For images from previous years please visit my posts on this site here, and here (2010) as well as here and here (2011).
This year, as I thought about going yet again, I though about what to photograph. Was I satisfied with making more portrait images of people in great costumes? Was I interested in more shots of low-riders, floats, and face paint? I wasn't.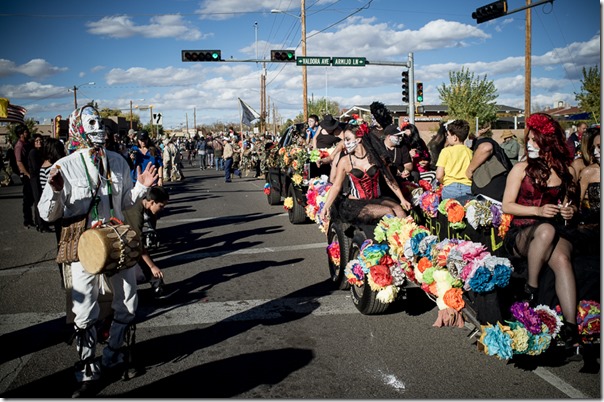 I've become much more interested lately in documenting New Mexico as it is. One of my favorite photographers, Larry Towell, wrote poetically that photographers, if we are not careful, run the risk of becoming "professional sharpshooters of exoticism….rather than contemplators of 'things as they are'" [sic]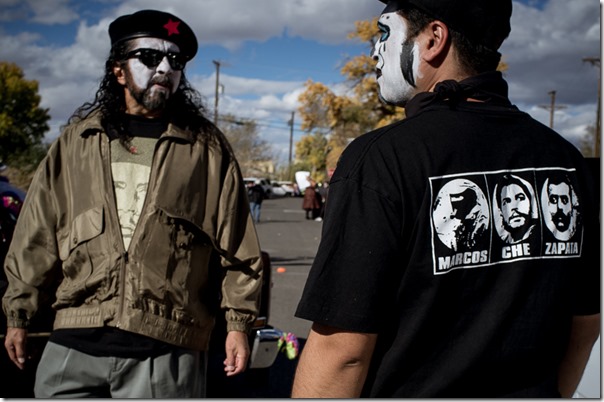 And so I asked myself what was important about this parade. Why photograph this? Why is it worth showing? Why does it make a difference? What is it about? What IS this parade? Here? Now?
My friend Ray Ketcham suggested, just prior to my departure, that I pick one or two stories I see there –  one or two aspects of what this parade is about –  and try to photograph those.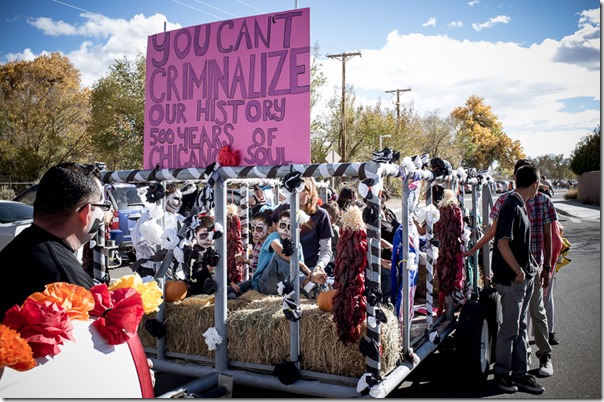 And so I took my time. I arrived at the staging area and left my camera in my bag. I waited, I watched. As scores of photographers buzzed about snapping away greedily at all the visual stimulus I asked myself, "what is here that you cannot yet see?" "Is there a theme that surprises you, excites you,…even offends you?"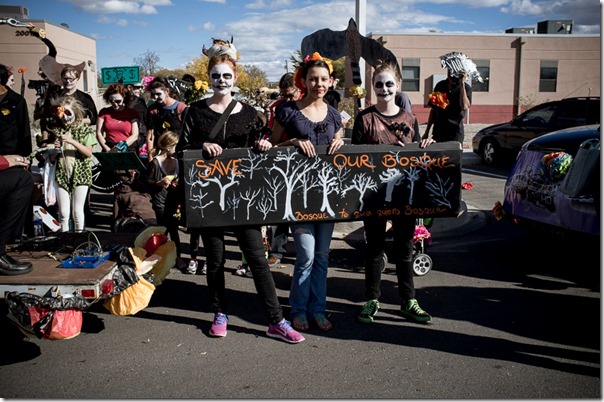 And slowly it began to reveal itself.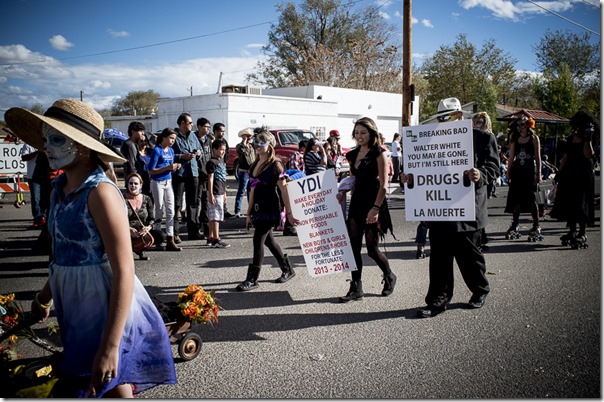 More and more the parade looks less like an expression of Chicano culture, pride, or tradition and more a platform for the costumed expression of political views. From marriage equality to water rights, from stomping for GMO-free food to immigrant rights, I witnessed a greater number of non-Hispanic participants parade through this Hispanic neighborhood pushing their political beliefs through a cultural platform that honors the dead. I didn't fail to be struck by the irony of the slow death that gentrification brings to traditional neighborhoods, and the cultural divide highlighted by the attempted cross-cultural participation.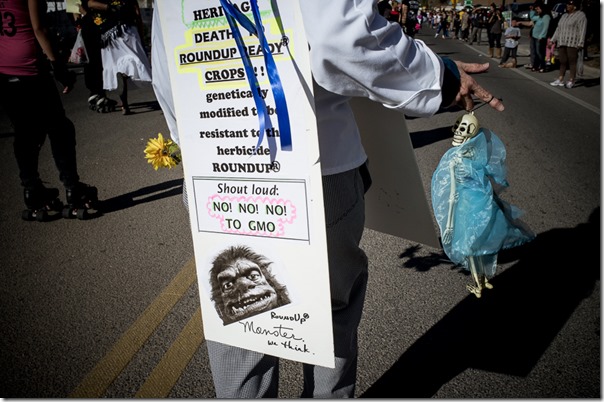 "GMO"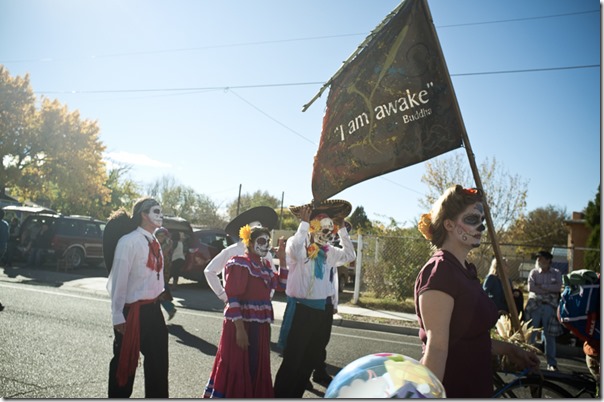 "Mariachi Awakening"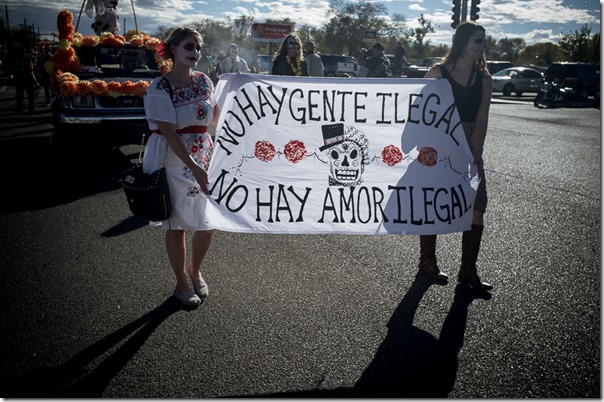 "El Amor Ilegal"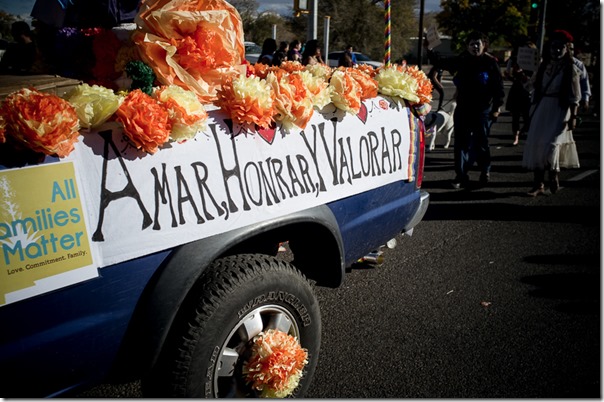 "Amar"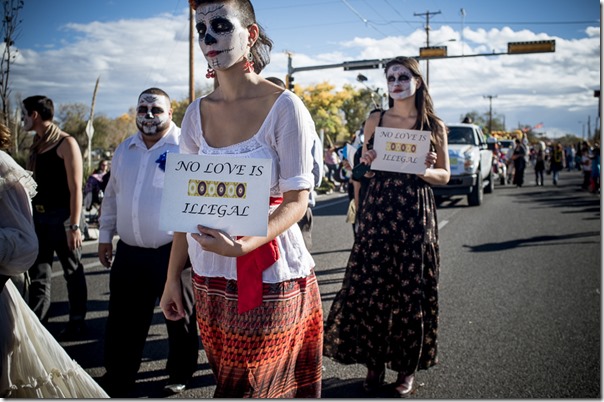 "No Love Is Illegal"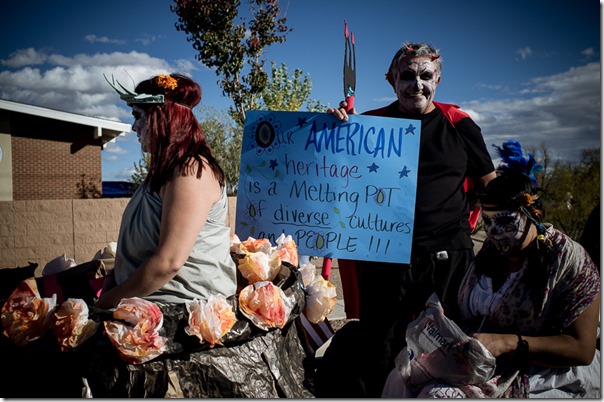 "Diversity"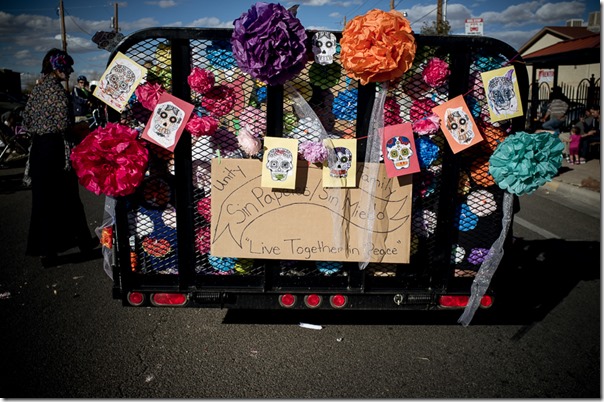 "Sin Papeles/Sin Miedo"
Mostly the parade this year, while visually enticing, left me scratching my head…
Along the parade route, while witnessing the costumes and revelry, I took particular notice of quiet people watching the parade and holding pictures. I approached and asked: "Can you tell me about the person in the pictures you are holding?" "This is my aunt," would come the reply. "This is my brother." "This is my grandfather….my father…my grandmother….my sister as a baby."
They were holding the images of their dead. Each one memorialized in a photographic image; the last likenesses of beloved members of the family. I was struck by the quiet reservedness of the living. Some were in costume; some were not. Each was quiet. Their internal state seemed unmatched to the dancing, whirling, marching, singing, chanting, candy throwing parade participants. I wondered if they felt out of place. I wondered if they felt like the Dia de los Muertos was different than expected.
I chose not to make images of those people and their departed relatives. I would have liked to, but the mood was not right, and out of respect I thanked them for their time and moved on.